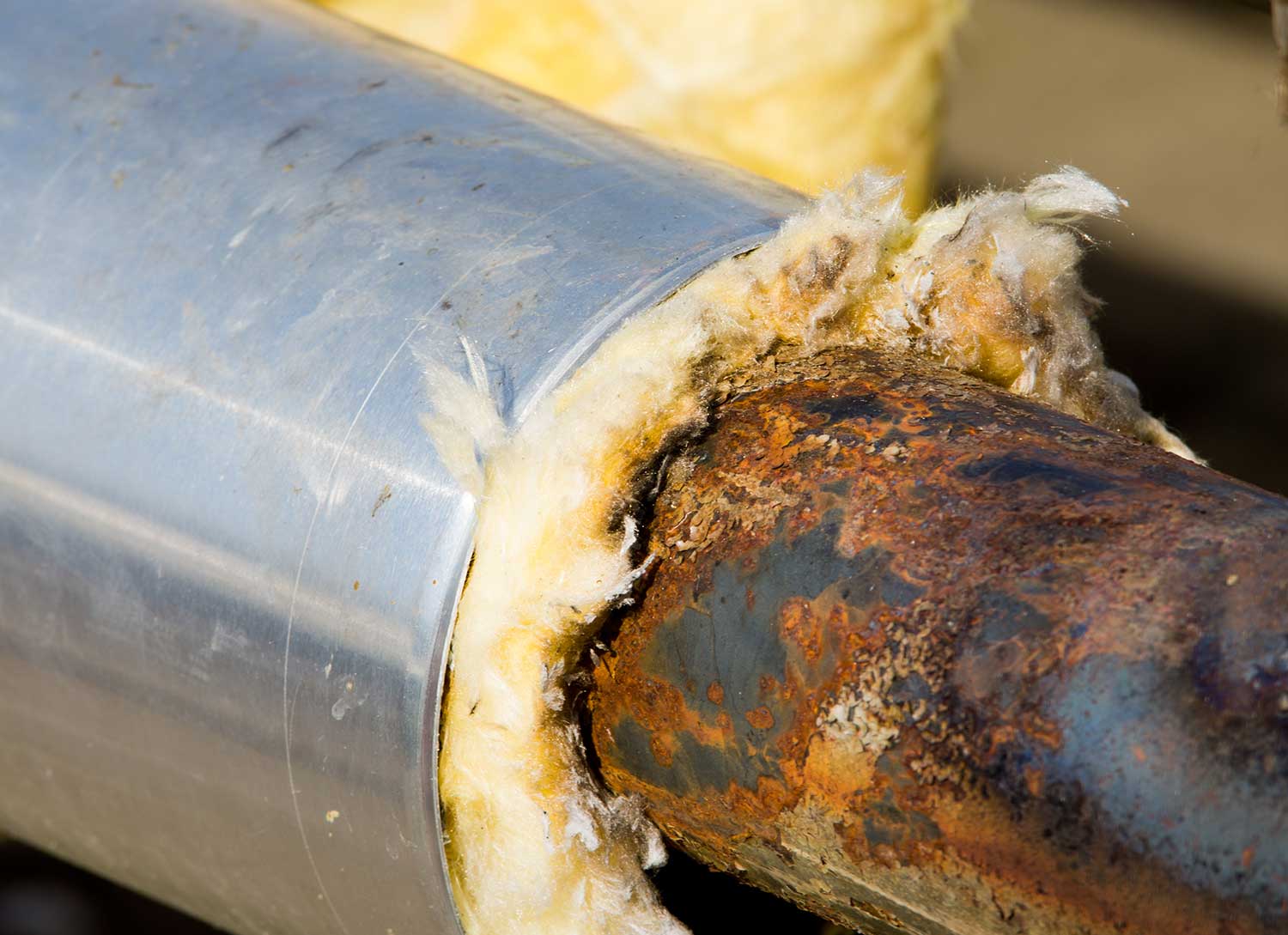 CORROSION UNDER INSULATION
C.U.I.
INDUSTRIAL PAINTERS
Paint Professionals Inc provides corrosion under insulation repair (CUI) services to quickly restore and protect pipes, tanks, and vessels suffering from pitting, thin-wall defects, and loss of structural integrity. We use a range of Belzona polymeric composites that are carefully matched to your specific needs. Application is safe and can be carried out in-situ including hot surfaces.
Benefits include:
Correct problems from corrosion and prevent it in the future
Apply repairs while assets are online, reducing downtime or lost production
Reduce shutdown work and save money on costly replacements
Rebuild areas of severe corrosion and pitting or thin-wall deterioration
Restore pipe thickness with cold bonding and polymeric wraps
Apply directly to hot surfaces from ambient to 302°F
Safe, solvent-free materials
Chemical and heat resistant
Long-term, durable protection proven to outperform conventional repairs
Corrosion under insulation (CUI) is the corrosion of piping and vessels that occurs beneath insulation as a result of water penetration. The water can come from rainwater, leakage, deluge system water, wash water, or sweating from temperature cycling or low temperature operation such as refrigeration units.
Unfortunately, because the corrosion is hidden under the insulation, CUI tends to remain undetected until the insulation is removed for inspection or when leaks occur. CUI is a common problem across many industries, including refining, petrochemical, power, industrial, onshore and offshore industries.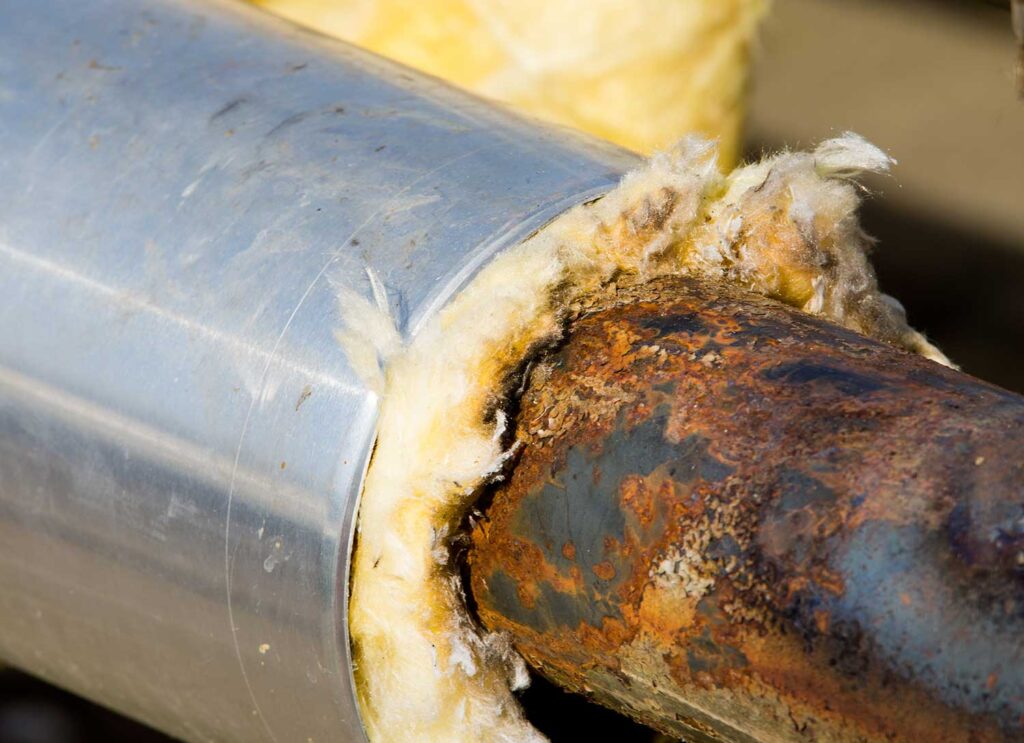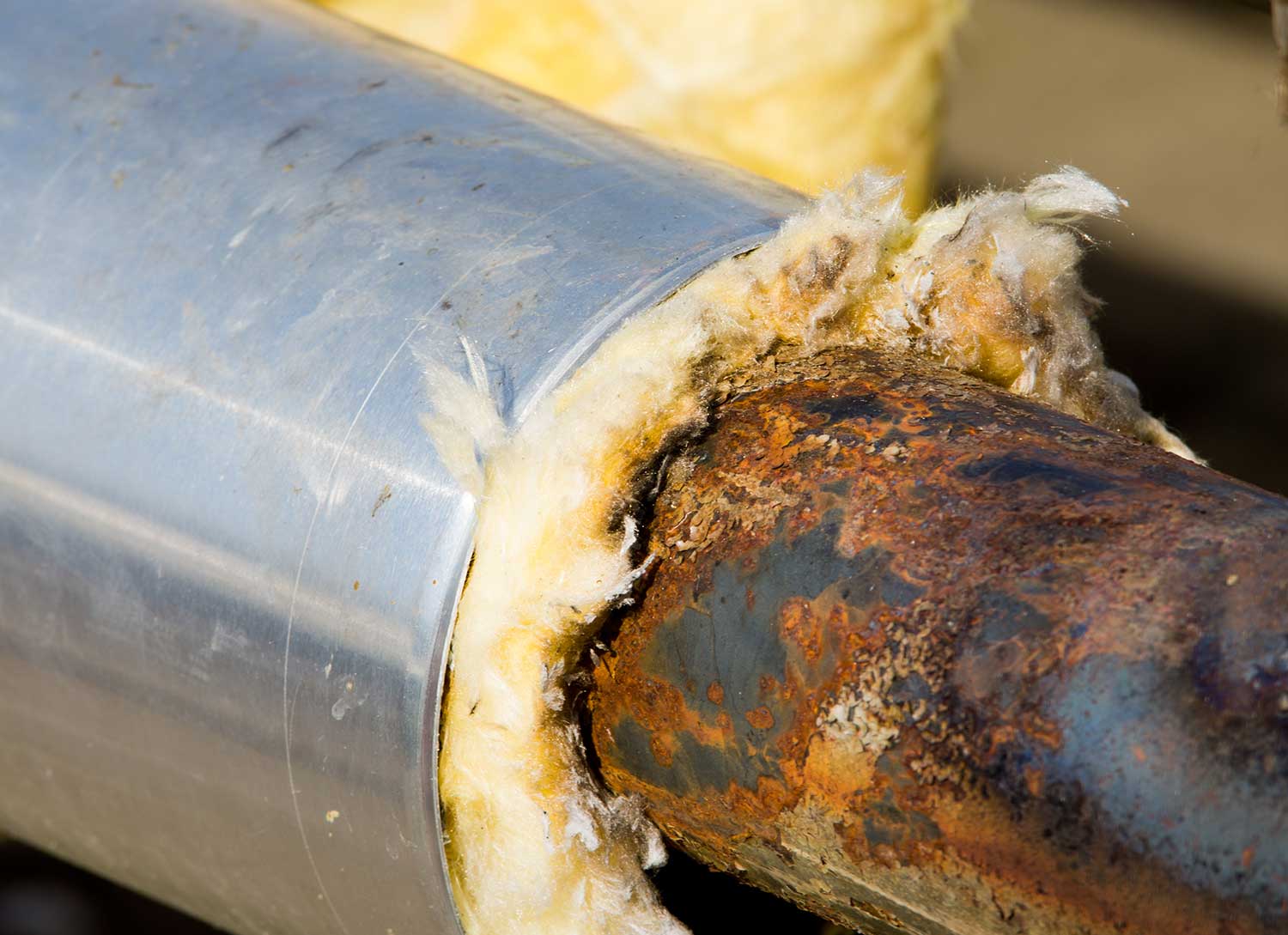 CUI PAINTING PROFESSIONALS
Corrosion under insulation (CUI) is a major challenge commonly associated with high temperature insulated steel. It is caused by the ingress and trapping of moisture within the insulation system, resulting in a warm, damp corrosive environment that can lead to catastrophic and expensive failures.
Installation of protective coatings on insulated steelwork is a highly effective method of combating CUI. Our staff are experienced in CUI surveying and will utilize high temp coating that has been specially designed to accommodate high temperatures and prevent against CUI.
It is important to verify that the high temp coating you choose is suitable for the expected service temperature. To help you better manage the risk that is associated with CUI, we will develop a scheduled coatings maintenance plan to enable periodic non-intrusive inspections to critical pipe work and equipment.
In 2001, a study commissioned by Congress was completed by a research team of corrosion specialists. The study, titled "Corrosion Costs and Preventive Strategies in the United States" reported the direct cost of corrosion to be $276 billion per year, with that number potentially doubling when indirect costs are also considered.
Another study, commissioned by ExxonMobil Chemical and presented to the European Federation of Corrosion in September 2003 indicated that:
The highest incidence of leaks in the refining and chemical industries are due to CUI and not to process corrosion
Most piping leaks – 81% – occur in diameters smaller than 4-inch nominal pipe size
Between 40% and 60% of piping maintenance costs are related to CUI
CAUSES OF CORROSION UNDER INSULATION
For CUI to form there must be two basic ingredients: moisture and warm temperatures. For iron products like carbon steel piping and equipment, oxygen is also required. To have chloride stress corrosion cracking (SCC) of 300 series stainless steel, there also must be the presence of chloride ions.
Obviously, oxygen is abundant and readily available. But maybe surprisingly, so too are chloride ions, which can be found in a wide variety of places from seawater, drinking and process water, and chloride chemical compounds to roadway de-icing salts. The presence of acids, acid gases, strong bases and salts can also create and accelerate corrosion.
Moisture in its many forms can find numerous ways to get under an insulation system. Rainwater is the most obvious method, but there is also flooding of insulation systems in low-lying areas and water from pressurized water wash down or local steam leaks. Water can also come from fire protection sprinkler systems, which can be as bad as or worse than any rainstorm.
The next source of moisture is water vapor penetrating and soaking down the insulation systems operating at or below ambient temperatures. The final source is ice, normally cold service insulation systems operating below the freezing point. Although insulated piping and equipment under a layer of ice do not corrode significantly since the temperature limits the available heat and oxygen (two of the three necessary elements of corrosion), it provides a near ideal corrosion area where the ice is continually freezing and thawing.
Operating temperature is the next most important element. Above 300 F, most moisture that finds its way into the insulation system evaporates before it can get to the surface and start corrosion. Below 32 F, because of relatively low energy levels, corrosion rates are dramatically reduced and the formation of ice limits the amount of oxygen available. However, between 32 F and 300 F is where CUI can happen for carbon steel, and between 140 F and 300 F for 300 series stainless steel. The "optimum" temperature range for aggressive corrosion on both carbon steel and 300 series stainless steel is between 200 F and 240 F. In this range, there is plenty of heat energy but not enough heat to efficiently evaporate moisture before it contacts the equipment surface.
WE PAINT ON YOUR SCHEDULE, NOT OURS! NIGHTS & WEEKENDS
Our crews are all I-9 certified and work at your convenience. No shutdown of your business is required.
WORKING DIRECTLY WITH YOU
Painting Professionals, Inc. has been a leader in the paints and coatings industry since 1985 and while our projects can be integrated through general contractors, we enjoy working directly with those responsible for facility maintenance and capital projects. our early involvement ensures proper specification, scheduling, coordination, and timely completion. This close interaction can end the need for costly, middleman supervision. We are sensitive to differing budgetary constraints and our projects can address both long term and short term considerations.
WE STAY ON THE JOB
When Painting Professionals, Inc. starts a project, we stay on the job until it is completed. When we commit to a schedule, we stick to it, weather permitting. We train and employ our crews and never outsource to outside workers with unknown skills. This practice sets us apart from many contractors and assures one consistent performance – our best! Just as important, we return calls and e-mails and stay in touch with facilities owners and managers to keep them informed of progress.
CALL FOR A REVIEW OF YOUR FACILITY
Let us prove why an investment with Painting Professionals, Inc. can help keep the appearance of your assets up to your standards, 24/7. Call to arrange an appointment. Discover the advantages of a genuinely professional coatings company that stands behind its work and guarantees customer satisfaction.
Request a Quote For Free
Contact Form
Contact Form